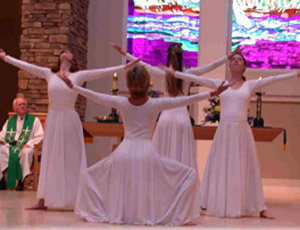 Would you start a Victorian Dance Ensemble if you would never be able to go to a Victorian ball and dance? Would you start a Victorian Dance Ensemble if you knew that Victorian Dance was considered a "dancing abuse"?
Well, that's apparently what some of the IHM "sisters" at Marywood University have done. No, they won't be dressed up like Scarlett O'Hara.
They have started a "Liturgical Dance Ensemble". The Diocese of Scranton, while having its share of liturgical abuses has been relatively unscathed by "liturgical dance".
It would seem our new Bishop is looking to fix that oversight.
At a Christmas concert held at the cathedral of all places, two supposedly Catholic nuns sashayed to and fro about the cathedral in an attempt to highlight their spirituality and creativeness.

Plus it has come to my attention that the good sisters have been prancing during actual Masses, but I have not been able to confirm this.

With few exceptions, the Holy See has said "no" to liturgical dance. James Akin, in his book Mass Confusion, notes that the Congregation for the Sacraments and Divine Worship, in an authoritative 1975 document, cited specific cultures in which liturgical dance has enhanced the liturgy and reflected the religious values of those cultures. But liturgical dance has never been part of the liturgical tradition of the Latin Church, and never been deemed appropriate in the West. The documents states: "Conciliar decisions have often condemned the religious dance because it conduces little to worship and because it could degenerate into disorders." The document adds that pseudo-ballet, or "interpretive dance," which has been tried in liturgy, is also prohibited.
So what's the point?
Why bother starting a "Liturgical Dance Ensemble" if you know you cannot dance liturgically?
Similarly, why would start an organization called "Women Priests" when you know a woman cannot be a priest? There's something more at work here.