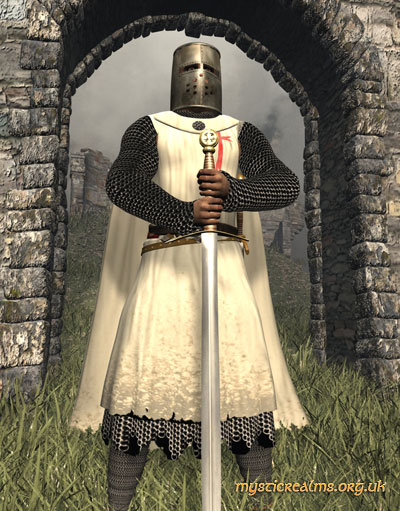 Fr. David Bechtel, a priest in the Diocese of Scranton ordained in June 2008, and a frequent commenter here at The Rockin" Traddy, has been kind enough to give us a taste of his first year serving the people of Christ. This Knight For Christ understands what his mission is, and he carries it out everyday.
Give it a read, post your comments, and join me in welcoming Father Bechtel to The Rockin' Traddy!
I went to three seminaries. For the sake of brevity I will talk only about Saint Charles, since that is the one I most recently graduated from. Seminary has four areas of formation: Academic, Spiritual, Pastoral, and Human. The ones given the emphasis are naturally Academic and Spiritual.



Academically Saint Charles prepared me for ministry because the professors are very orthodox. They gave me the tools I need to both defend and teach what the Church believes. I am very grateful to the seminary for the Academic training I received. I feel it adequate not in content, but only in so far as there is so much to learn in such a confined time. I would love to take the opportunity to go into even more detail. There are a lot of attacks on the Faith which come in many forms- whether from protestant fundamentalism or liberal, secular, atheistic humanism. In any case priests need to be able to defend and teach the Faith, and because of Saint Charles I am far better able to teach and defend the Faith then I was before going.



The Spirituality of the seminary tends to be devotional in nature. Stations of the Cross were staples during Lent on Fridays. Marian devotions were plentiful. One of the weaknesses of seminary life is that things tend to be monastic in nature. In other words our day is planned around our prayer. However ministry is quite the opposite- you plan prayer around your day. There is not going to be a bell to summon you to chapel for evening prayer, or night prayer. In ministry you have to make the time to pray, if you don't make that time, you will not be faithful to your prayer life. I find I have the time to pray most days if I want the time to do so. Priests who claim they are too busy to pray (including myself) are simply too busy. They need to step back and put their priorities in order. This was no surprise for me upon entering priestly ministry. Though the seminary prayer life is far different from parish life, I fully expected it to be so.



Pastorally, Seminary gives each student an "Apostolate" whereby one day a week, (weekends for Transitional Deacons) they leave the seminary and work in some ministry setting. It might be a hospice, a hospital, a prison, a parish, etc. You get pastoral experience through these assignments, then reflect on them in seminary.

Human Formation is always on going. Basically seminary evaluates your progress and work, your personality, etc to see if you are suitable for ministry. They don't change your personality, but rather try to smooth out the rough edges so you can be effective in ministry.



My first assignment was Saint Mary of the Mount in Mount Pocono. There I was a Transitional Deacon for a year. I had a wonderful experience there. My first priestly assignment was Saint Matthews. I knew the parish and the area being stationed in Mt Pocono as a Deacon. My first assignment was everything I expected. Saint Matthew's in particular was everything I expected it would be. There were no surprises. The pastor who is well respected by the people and the Diocese, leads the parish in a way not atypical of priests in his generation. The assistants for the most part tend to the ministry aspect of parish life, the pastor to the business aspect though not exclusively.



My duties included the hospital, CCD presence, grade school presence, youth group, hospice and nursing home visits, home visits, etc. Given that as a Deacon I did all of this at Saint Mary's it was nothing for me to show up at Saint Matthew's and continue these duties. It was quite a smooth transition. The only difference was that now I could hear Confessions and anoint people instead of referring them to a priest. In other words the ministry did not change, what changed was that I could now offer the people Sacraments, especially Confession and Anointing.



Honestly after my first year as priest I feel that seminary best prepared me for MINISTRY. However the time will come when I will also have to be a PASTOR whereby I will make decisions, set the agenda, direction, goals, etc, of a parish. This is something seminary did not prepare me for nor any parish experience. Naturally only one person can be in charge and make the decisions and that is the role of the pastor, not the assistant or Transitional Deacon. However when I was a Deacon at Saint Mary's the pastor did try to teach and share with me the "how to" in running a parish. He might explain what decision he made and his thought process behind the decision, etc. This was very helpful for me to understand the different aspects and factors involved as to why something is done in the manner in which it is done, etc. He would talk about his previous assignments and the challenges he faced in them and how he met them.



I was only at Saint Matthew's for a year, but given the size of the parish, and the fact that there is something going on there just about every night of the week, sometimes two and three things at a time, I was able participate in every conceivable parish ministry and gain more experience with it. I think that because of my time at Saint Matthew's I have been prepared for every conceivable ministry one might encounter in a parish. The people of the parish are wonderful people and very generous.



My new assignment is working full time as a chaplain to a school system whereby I teach and provide the Sacramental and spiritual needs for the students. As of right now, until someone can be hired or appointed for full time Campus Ministry, the Diocese has chosen to join Penn College with my assignment at the school. They have appointed me part time Chaplain to Penn College. It is as of now unclear when someone would be hired or appointed, so I will serve the college for an indeterminate time. I will serve the college pretty much in the same capacity as I serve the school. I will provide the Sacramental and or Spiritual needs of the students/staff/professors with particular attention to Catholic students of course.



The Faithful at both assignments, and my current one have received me well, at least as far as I can observe. Saint Mary's was very welcoming, Saint Matthew's the same. I am not naive to think all of the Faithful loved me, I am sure some did not like me at all. I am sure in this assignment there will be Faithful who will not like me. However thus far if anyone did not like me, they were not vocal about it that I ever heard. I was never aware of any complains at either of my former assignments. This is not to say there weren't any, but I was never aware of them. I can only assume whatever mistakes I made were not seen as huge or unforgivable by the Faithful.



I was only rebuked twice. The first was by someone after Mass for a homily they found "offensive." I publicly mentioned Nancy Pelosi's error on abortion. I called her sarcastically the "Shrieker of the House." The congregation roared with laughter, but there is always someone who just has to take the requisite "offense" at something. The person told me they felt that was unprofessional and unbecoming of my office and that such comments ought to be left to "Fox News, not the pulpit." I gave the person the benefit of the doubt on that one, since they did not rebuke me for speaking against abortion, but only the manner in which I did so. For the record I never heard Fox News refer to Pelosi in that way. I got that from Mike Church Sirius Patriot 144 Satellite Radio. But- again, I can grant the person's complaint and give them the benifit of the doubt.



The second was when I spoke about priesthood. During the homily I brought up why the Church reserves ordination to men. Men image Christ the Bridegroom, women the Church, the Bride of Christ, etc. A person said to me after Mass "Well Father perhaps the Church will allow discussion on the issue of women's ordination in the future." To which I replied "What is there to discuss? The Church has already discussed and settled the issue. What is it you would like the Church to discuss at this point?" To which the person walked away in a huff. That I cannot help or grant of course, since as a priest I teach what the Church teaches, not what people think I should teach or want to hear.



As far as the whole Martino controversy all I can say is that it really was not an issue where I was at either assignments. Catholicism in the Eastern end of the Diocese is very different from valley style Catholicism. (Wilkes-barre/Scranton) The culture is different. It is something you have to experience. As a newly ordained priest, I can say that I miss him as our bishop. I grant he was not perfect- I grant I did not always agree with everything he did--- but one thing that always helped me was the realization that the Diocese does not revolve around me. I did not get ordained so the Diocese can serve ME, rather I got ordained to serve the Diocese. Bishop Martino had a tough job to do. The people seemed quick on complaints, but short on lasting and meaningful solutions to the very real problems this Diocese faces. Their reaction to what he had to do is rather confounding given that they were aware of the problems long before he took over.