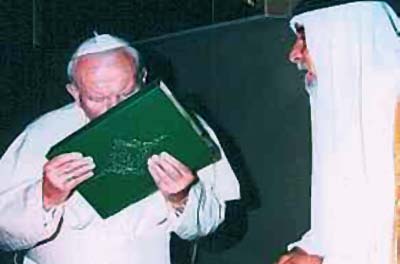 I don't have anything to say on this right now. I will shortly. I was not a huge fan, and it is time for me to contemplate on what this man stood for. If any of you have opinions, post them here.



April 1 (Bloomberg) -- The Vatican finished its report promoting sainthood for John Paul II, three years after mourners marked the funeral of the Catholic Church's longest-serving pope with cries of ``Santo Subito,'' or ``Sainthood Now.''


In accordance with church rules, the canonization process will be conducted from Rome, where John Paul, born Karol Jozef Wojtyla in Wadowice, Poland, died on April 2, 2005, at age 84. Polish priest Monsignor Slawomir Oder headed the process of reviewing John Paul's life and presenting the case for whether his virtues qualify him for sainthood. The review covered all of John Paul's writings, and looked at his time as Bishop of Krakow.

Oder also examined witnesses' accounts of miracles performed by John Paul.

Oder told Vatican Radio yesterday that he has completed a ``semifinal version'' of the 2,000-page report. His comments were confirmed on the official Web site for John Paul's beatification.

The findings of initial investigations in Rome and Krakow will be presented to the Vatican's Congregation for the Causes of Saints, which will have to decide whether to beatify, or declare John Paul as blessed, before designating him a saint.



Pope Benedict has already put his predecessor on the fast track to sainthood by waiving the usual five-year waiting period. The last time that happened was in the case of Mother Theresa of Calcutta, whose cause for sainthood was taken up in 1999, less than two years after her death. She was beatified in October 2003 and has yet to be canonized as a saint.



German-born Benedict, who was one of John Paul's closest advisers, will preside over Mass on April 2 at 10:30 a.m. in St. Peter's Square to mark the anniversary of John Paul's death.