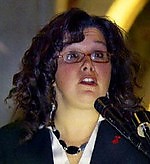 According to her website,
tinaforjudge.com
, Tina Polachek Gartley, the Luzerne County Court of Common Pleas Judge candidate is "...the fresh face that we need in the courthouse in Luzerne County. Though Tina may be new to the political arena, she has a wealth of experience in the courtroom." Her site goes on to explain "...Tina and her family are neither political nor connected. She was raised by her mother, a nurse, and her father, a school bus driver, to be honest and fair."
Really?
She is new to the political arena, and she's not connected?
Honest and Fair?
I asked her this straightforward question on Facebook today:
Stephen Lewis
Is it true you contributed to Mark Ciavarella's retention campaign in 2005?
6 hours ago
Her reply:
Tina Polachek Gartley
No. Untrue.
5 hours ago
So I decided to go to the PA Department of State Website and and check the campaign finance reports.
And guess what I found?


Contribution Details
5
Contributor
Date
Amount
SCOTT AND TINA GARTLEY
PLAINS,&nbspPA &nbsp18705
9/12/2005
$500.00
Occupation:
ATTORNEY
Employer:
SAME
Description:
Monetary Contribution-
Recipient:
CIAVARELLA, MARK JUDGE RETENTION COM
Report:
2005 Cycle 5
So Tina, is that your final answer?
And I would also like to suggest that you come clean about being a political outsider. A cursory glance through the campaign finance reports since 2000 show that both you and your husband Scott are frequent campaign donors to people such as:
Martin Kane For Magistrate $100
Chester Muroski Retention $200
Phyllis Mundy $200
Brian O'Donnell For State Rep $1,000
And you gave yourself $4,500.
Plus your husband Scott gave money to help retain Michael Conahan of all people.
Additionally, your campaign took $1,000 from the friends of Maryanne Petrilla.
So do you think you should claim on your website that your family is neither political nor connected?
And why would you lie to me about something so easily verified? Did you think I was some Luzerne County bumpkin, incapable of checking claims made by politicians?
During this terrible time for our county, the people are in dire need of politicans who are "honest and fair", they must impeccable in order to gain our trust. Now we see you don't fit that description.
Hopefully Luzerne County will say 'no' to you before it's too late.