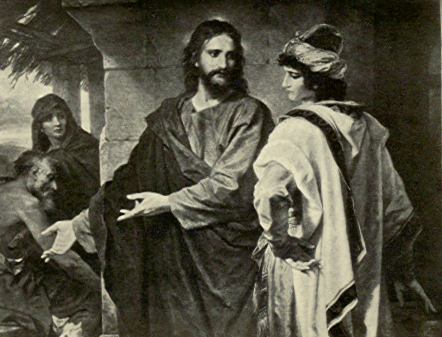 In the first Epistle of Saint Paul to the Corinthians Paul teaches us that the theological virtue of Charity is superior to all others. He writes:
1 If I speak with the tongues of men, and of angels, and have not charity, I am become as sounding brass, or a tinkling cymbal. 2 And if I should have prophecy and should know all mysteries, and all knowledge, and if I should have all faith, so that I could remove mountains, and have not charity, I am nothing. 3 And if I should distribute all my goods to feed the poor, and if I should deliver my body to be burned, and have not charity, it profiteth me nothing. 4 Charity is patient, is kind: charity envieth not, dealeth not perversely; is not puffed up; 5 Is not ambitious, seeketh not her own, is not provoked to anger, thinketh no evil;

6 Rejoiceth not in iniquity, but rejoiceth with the truth; 7 Beareth all things, believeth all things, hopeth all things, endureth all things. 8 Charity never falleth away: whether prophecies shall be made void, or tongues shall cease, or knowledge shall be destroyed. 9 For we know in part, and we prophesy in part. 10 But when that which is perfect is come, that which is in part shall be done away.

11 When I was a child, I spoke as a child, I understood as a child, I thought as a child. But, when I became a man, I put away the things of a child. 12 We see now through a glass in a dark manner; but then face to face. Now I know in part; but then I shall know even as I am known. 13 And now there remain faith, hope, and charity, these three: but the greatest of these is charity.
It seems to the Traddy that the people involved in the homeless shelter question at
Holy Family
in Sugar Notch need this lesson placed before their eyes.
Include into that mix some of the parishioners who are now objecting publicly to the shelter. People are under the false assumption that a homeless shelter is a half way house or that it houses criminals. Where is our sense of Christian charity today?
I was in New York one time and ignored a beggar. My thoughts at the time was that the guy was going to go off and buy some cheap wine. I felt bad about it after and went to confession. The priest actually told me, "You have a good heart. I cannot remember the last time someone told me they ignored the poor." It was only then when I realized it didn't matter what he did with it, what mattered was that if I had given the beggar money, I would have done the right thing and would have been storing treasure in heaven.
I wonder how many of us are doing just that? Storing treasure in Heaven. Matthew 19:21 clearly tells us:
Jesus saith to him: If thou wilt be perfect, go sell what thou hast, and give to the poor, and thou shalt have treasure in heaven: and come follow me.
And this isn't even a case of selling all and giving it to the homeless. All they have to do is open the door of their church building. They don't have to do anything. They only have to give a little bit of of themselves.
And sometimes, that is harder than giving up your treasure.
Bible verses courtesy
http://www.drbo.org